****This station is located in the French Quarter park**** include("nws-alerts.php");

[10/10]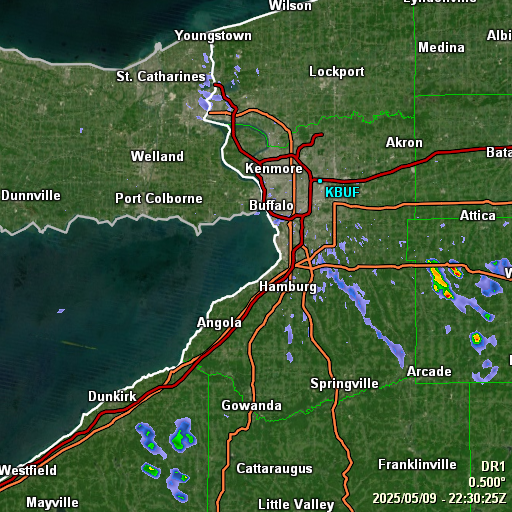 Updated:

@ 4:55pm

Temperatures
Current Conditions
Forecast

Currently Outside:



30.6°F



Wind Chill:

29.6°F




Cold



High Today


32.9°F


1:51 PM
Low Today


30.6°F


4:53 PM
Yest High


36.7°F


10:10 AM
Yest Low


31.0°F


10:59 PM
Sta* High


53.7°F


2021
Sta* Low


25.8°F


2018
* This Station's Records Since 12/2013
Rec* High


75.0°F


1939
Rec* Low


-8.0°F


1950
Weather Server uptime 6 Days 14 Hours 36 Minutes 43 Seconds

Lake Erie:45F
Lake Ontario:46F


This
Afternoon

Isolated Snow
Showers

Tonight


Mostly Cloudy
then Snow

Thursday


Snow then
Chance
Rain/Snow

Hi

34 °F

Lo

31 °F

Hi

40 °F


Click here for full Forecast
<

Dew Point
Liquid Precipitation
Wind Speed
Sun/Moon

Current:

22.6°F

Last Hour:

0.5°F

High 1:14 AM:

30.0°F

Low 3:39 PM:

22.4°F

Record High:

74.7°F on


Sep-6-2023
Record Low:

8.6°F on


Mar-18-2023
Wetbulb:

28.0°F

Leaf Wet:7

0

Rain Today



Melt Today:

0.03 in

Storm Rain:

0.03 in

Yesterday:

0.00 in

Last 7 Days:

1.00 in

Dec Rain:

1.02 in

Dec to Date
Avg:10

0.00 in

Dec to Date
Diff from Avg:10

1.02 in

Dec Avg:

0.00 in

Diff from Avg:

1.02 in

Season:1

37.86 in

YTD
Avg:11

31.05 in

YTD
Diff from Avg:11

6.81 in

Last Rain
Time/Date:
Dec-6-2023
at 2:12 PM
139 rain days in 2023
4 days in December
0 days since last rain

Current:

NW

1.9 mph

1Hr Average:

3.5 mph

Wind Run:

41.63 miles

Wind Gust
Current:

1.0 mph mph

Today:

13.0

mph

11:44 AM

Month:

21.0 mph

Dec-4
Year:

56.0 mph

Nov-11
Record Gust:

56.0 mph


Nov-11-2023

Sunlight:


9 hrs 42 min
32 sec
of Sunlight Today Which is 54 sec shorter than
yesterday


(Noon)

(Midnight)






Waning Crescent

33%


Illuminated

Humidity
Barometer

Current:

72

%
Last Hour:
1%
High 12:52 AM:
94%
Low 3:34 PM:
69%
Record High:
97%
Jun-24-2023
Record Low:
18%
May-18-2023

Current:

30.177 inHg

Last Hour:

Steady

High 4:51 PM:

30.178 in.

Low 12:21 AM:

30.070 in.

Record High:

30.637 inHg


Apr-8-2023
Record Low:

29.202 inHg


May-1-2023

Heating Degree Days
Snow3
Wind Chill
AIR

Today:
23.1
Dec:
146.7
2023 to Date:
4846.0
Cooling Degree Days
2023 to Date:
604.2

Today:

0.00 in

Yesterday:

0.00 in

Dec Snow:

0.00 in

Dec Avg:

15.51 in

Diff from Avg:

-15.51 in

Season Total:2

3.50 in

Snow Depth:

0.00 in

0 snow days in December
2 snow days this season.2
First Snow of Season:
Nov-1-2023
Average 1st Snow:
29 of Nov

Current:

29.6°F

Low

11:08 AM

:

23.1°F

Yesterday:

27.6°F

Record:

10.0°F


Mar-19-2023

Quality
Index6:
53


Density:
1.31 kg/m3

UV Summary/Forecast
Solar Summary

High Today:

0.5 @ 1:41 PM

Dec-07


Dec-08


Dec-09



High Today:
519 W/m2 @ 1:43 PM
Sun Hours Today:


00:31


This Month

: 04:37 Hrs

Rise: 7:32 am Set: 4:41 pm

Soil Depth/Temp8
Irrigation Index5
Station All Time Records
Cloud Level

0.6 in:

40°F °F

1.2 in:

42°F

1.8 in:

43°F


Growing conditions
at the depth of:

0.6 in:





Soil moisture range is from
0-Wet to 200-Dry/Frozen

Updated at Midnight
Current ET:

0.01 in

7-Days Rain:

1.00 in

7-Days ET:

0.14 in

7-Day:

0.862 in

December:

0.95 in

HIGHS:
LOWS:

94.8°F


Sep-6-2023

19.8°F


Mar-30-2023
Daytime Records

91.8°F


Sep-06-2023

26.4°F


Nov-29-2023
Nitetime Records

79.0°F


Jul-29-2023

24.1°F


Mar-19-2023
ICN:1 | S3C2:1

| Ajax 3.xx


ISS:Ok | CON:4.7 | RCP:98%
1 Rain season: Jan 1st to Dec 31st. 2 Snow season July 1st to June 30th. 3 Snow manually measured usually around 7AM and 7PM. 5 Estimated amount of water needed to replace the water used by plants and evaporation from the past week. (Negative numbers mean amount of water needed, positive numbers mean excess water is present). 6 Air Quality Index is provided by Minnesota Polution Control Agency and is updated hourly between the hours of 6AM and Midnight. 7 Leaf Wetness is surface moisture on foliage. 0 being totally dry and 15 being totally saturated. 8 Soil moisture and temperatures are from sensors burried in the ground at the levels specified. 10 Historical average only to day 6 of just the month of December for this station since 2013. 11 Historical average rain this season to day 6 of December for this station since 2013.
NWS Weather Forecast - Outlook This Afternoon & Tonight
This
Afternoon

Isolated Snow
Showers

Hi

34 °F

NWS forecast: Isolated snow showers. Mostly cloudy, with a high near 34. Northwest wind around 8 mph. Chance of precipitation is 20%.
Local station forecast:

Increasing clouds with little temp change, precipitation possible within 24 to 48 hrs.

Tonight


Mostly Cloudy
then Snow

Lo

31 °F

NWS forecast: A chance of snow showers, mainly between 1am and 2am, then snow after 2am. Low around 31. West wind 5 to 9 mph becoming calm after midnight. Chance of precipitation is 80%. New snow accumulation of 1 to 3 inches possible.
NWS Short Term Weather Forecast
Thursday


Snow then
Chance
Rain/Snow

Thursday
Night

Mostly Cloudy


Friday


Partly Sunny


Friday
Night

Mostly Cloudy


Saturday


Mostly Cloudy


Saturday
Night

Rain Likely
and Breezy

Sunday


Rain and
Breezy

Hi

40 °F

Lo

34 °F

Hi

52 °F

Lo

43 °F

Hi

59 °F

Lo

48 °F

Hi

51 °F